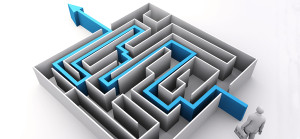 We Cut Through The Clutter
Depending upon the size of your trade show presence there are 10s to 100s of trade show marketing activities that need to be considered, planned and managed before, during and after the show.
For most small to mid-sized companies it just isn't practical or financially feasible to have a full-time professional trade show marketing manager on staff.  That reality shouldn't translate to lower expectations or result in delivering a less than excellent trade show experience.
We are experts at making sure your trade show marketing investment is fully aligned to your sales and marketing objectives while staying within your budget. In fact our professional services are often 40% to 60% more cost effective than full-time trade show marketing personnel.
Our proven approach to trade show marketing planning, execution and post-show performance review deliver the results you need.  Our comprehensive set of  trade show marketing activity checklists and show strategies provide our customers with the confidence and peace of mind that their trade show experience is the best it can be.
Let our Certified Trade Show Marketing (CTSM) professionals help you assess your requirements, align them to achieve your desired results, and maximize your trade show marketing budget.
For more information contact sales@tradeshowsupport.com or use our contact form.