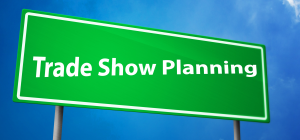 Concept to Execution
Your trade show presence is more than a booth with graphics where your marketing and sales team hangs around waiting for prospects to wander by. A successful trade show requires careful and thorough trade show marketing planning process starting several months and in some cases a year in advance.
To be truly successful at the trade show your presence must be fully planned and orchestrated.  All aspects of your presence must be considered to maximize your investment and revenue generation opportunities at the show.
A comprehensive trade show marketing plan contains at a minimum intelligent consideration of:
Booth Location

Booth Size

Graphics

Advertising

Sponsorship

Email Blasts

Appointment Calendar

Press Releases

Events

Collateral

Give Aways

Etc….
These are just a few of the critical items our planning team focuses on with you.
A Certified Trade Show Marketing (CTSM) professional will provide you with a complete and comprehensive understanding of the approach to the planning, execution and post show retrospective.  They will help you to map out the entire trade show marketing process that is right for you using an extensive set of activity based checklists. They will then manage the execution of the process through continual checkpoints to make sure you are on track and on budget.
To get started on trade show marketing planning and maximizing your next trade show experience contact sales@tradeshowsupport.com or use our contact form.